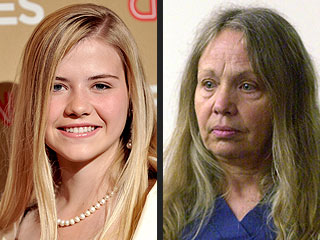 Jon Kopaloff/FilmMagic; AP
Wanda Barzee wept at the
trial
of her husband, Brian David Mitchell,
as she recalled how he kidnapped and raped 14-year-old Elizabeth Smart.

Wearing shackles and a blue-and-white striped jail jumpsuit, Barzee, 65, broke down during cross-examination Friday by federal prosecutor Felice Viti in a Salt Lake City courtroom.
Barzee, who is serving a 15-years-to-life sentence after
pleading guilty
for her role in Smart's kidnapping, said she felt manipulated by Mitchell, who told her he was driven by religious revelations.
As Smart calmly watched the testimony sitting with her family
, Barzee also admitted that she didn't like the attention Mitchell gave to Smart after kidnapping her in 2003 and taking her to a camp
where the girl was attached to a cable.

"You felt neglected and you made your feelings known on more than one occasion to the defendant, didn't you?" asked Viti.
"Yes," she said softly.
Barzee said that sexual assaults on Smart were part of Mitchell's "revelations," and tearfully acknowledged that Mitchell said that he and Barzee were required to demonstrate sexual intercourse in front of Smart.
"I was told not to complain," she testified.
Losing her composure on the stand, Barzee said she now realized he lied to her throughout the nine months they held Smart.

"He's a good liar isn't he?" asked Viti.
"Yes," said Barzee, bursting into tears. "He's a great deceiver."
"There was nothing the defendant did, in your experience with him, looking back, that was kind? Charitable?"
"No."
"Do you feel sorrow for the things you did...the kidnapping of Elizabeth Smart?"
"Yes."
"The raping of Elizabeth Smart?"
Now sobbing, Barzee said, "Yes."

Mitchell, 57, faces life in prison if convicted of kidnapping and unlawful transportation of a minor across state lines. After a weeklong recess next week, the trial is expected to resume on Nov. 29 and last until mid-December.
COMMENT: This is my point you may not leave a comment unless it is a Salt Lake City mormon comment. This is unbelievable ,you have a woman shackled and terrified ,brainwashed by the system, schooled to be told what to say as the SMARTS look on to make sure all goes to plan. Wanda ,who did not know she had a mental problem until she was 'told' by the state. I repeat where is Ed Smarts 911 call where is the forensic proving the window mesh was slashed from inside out..where is the DNA evidence of rape. Twice in one week two cases are heard without DNA..the Chandra Levi trial to shut up the family and take the heat from an ex member of congress . Well as long as the American sheeple are happy and 'they think' America is the land of free speech...Money buys you justice it also buys you silence and if you do not like what they say you may wake up dead .